events of any kind to organize? Do it with us at Ksar Jouamaa. Your birthdays, meetings, weddings, conferences, engagements, wedding anniversaries, etc…
Flower petals reflecting in the light of day, themselves slipping between the stones, with the perfume of rose water delicately deposited in the alchemy of a moment, the Ksar Jouamaa of its charm can become the place the most important events in your life, such as the first day of your life together.
Through the clarity of the smallest of these details, it can also illuminate the flames of your birthday to your liking, and foresee the tasting of a cake in front of a surreal landscape that will leave you speechless and with a few tears of scattered emotions.
Not to mention, if you have drawn your future through an engagement! By the brilliance of pretty jewels, the Ksar Jouamaa will know how to honor your love and let you color your fairy tale in your own way.
But the magic of this refuge will not stop there, you can afford to work in a seminar in a dream setting, while giving yourself time for yourself. No more time pressure, you will succeed in letting go when dusk decides to touch you, the warmth and the decor will bewitch you and the sunset of its prestigious beauty will light up the sky with its most beautiful lanterns… It is the promise of a unique experience.
Nothing is forbidden when the dream takes its place within a religious silence and flawless beauty. It is by tasting originality that we find the essential and the importance of a moment and especially of the present moment. A life event is always more striking when it is shared and inscribed in the bowels of a place.
Come and leave your mark on its symbolic stones through your life story, your sorrows, your joys, your secrets and your confidences and let us put our stone to the building by offering you wonderful moments through an organization sewn on measure for you.
From engagement rings and wedding veils to candles for your birthday and big family gatherings. The Ksar Jouamaa opens its doors to you and lets its magic slip between its bowels to offer you an event that meets your desires. Allow yourself to dream big! Just allow yourself to dream, we take care of everything.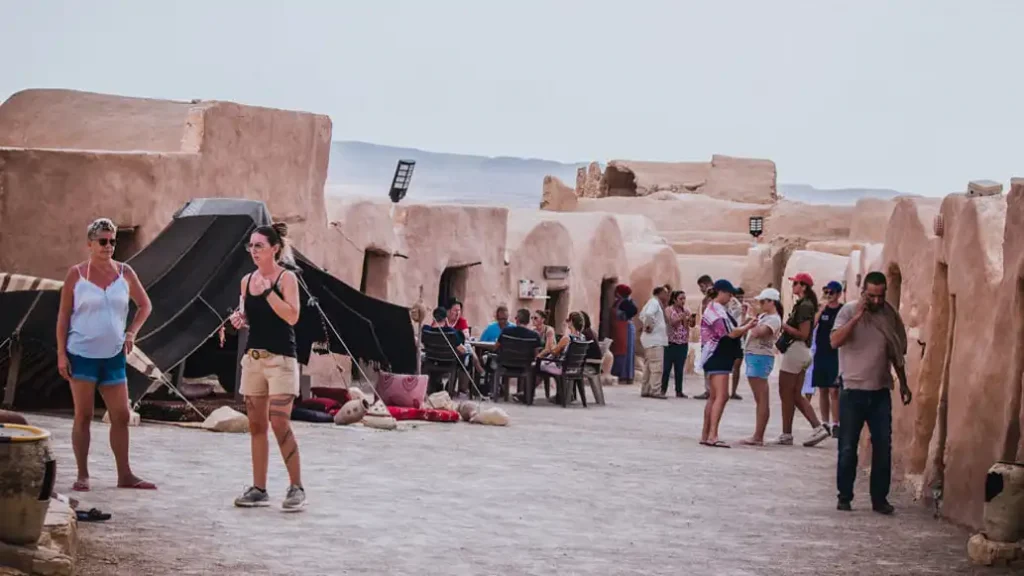 You wish to engrave with a precious stone, an epic of your personal or professional life and you dream of simplicity, originality and conviviality, our rough diamond, the Ksar Jouamaa was made for you! Come join us and sewn by hand, we will offer you glitter in your eyes and memories in your heart. You will have nothing to do, just let yourself be lulled by the flavors, the silence and the magic of the moment.