Ksar Jouamaa restaurant
The Ksar Jouamaa restaurant opens the doors of its sanctuary to you for a meal with special flavours. During your stay or just your visit to Ksar Jouamaa, off the beaten track, far from your daily life. The Ksar Jouamaa restaurant will make your mind travel but also your taste buds, especially with a succulent gargoulette and its accompaniments, a typical royal couscous or grilled meat or fish. What are you enjoying! But it is not finished ! For you, the Ksar Jouamaa restaurant puts the small dishes in the big ones. Since it offers you an à la carte menu, according to your desires and tastes. Also with cold dishes such as a méchouia salad or a Tunisian salad. All accompanied by a traditional egg brick. Then, to close this feast in the heart of its prestigious mountains and our palace, a beautiful plate decorated with fresh fruit can be served to you, to refresh a very sunny day. Enough to fill your stay with a smell of renewal and happiness, sprinkled with a lot of love and generosity. Let yourself be tempted by the spell of a surreal landscape. The comfort of a ghorfa that will become your cocoon, but above all don't miss a delicious meal, prepared by our chef and served by us at your table in a setting overlooking the void and the world. Don't be afraid to taste new things, to introduce your palate to new creamy flavors. It is by tasting that one travels from one land to another and is enriched. Imagine savoring a couscous, with the only witness being a haze-free horizon, simply dressed in a setting sun or a dazzling blue. Imagine yourself, tasting very good fresh fruit while sipping a cocktail or a drink of your choice. Your stay can only be delicious. You will feel the freshness of ancient perfumes and Tunisian wisdom pass between the stones but also the flavors of a cuisine typically prepared with love. These will accompany you during your journeys but also during your meals and your overnight stays. At the end of your stay you will feel that peace and lightness are at your feet and will keep you standing forever. It is in all these smallest details that Tunisian magic lies and it is this magic that the Ksar Jouamaa wishes to offer you through all its services and in particular its menu and these meals. Do not hesitate any longer and come join us for a natural and culinary adventure in the middle of another world. We are waiting for you in large numbers at the restaurant of Ksar Jouamaa, in this unusual place, where peace reigns supreme and allows you to find yourself so as not to get lost again. At the Ksar Jouamaa restaurant, you will leave transformed and eternally grateful for its beauty. You will taste the beauty of life that will appear between the stones but you can also enjoy a delicious meal prepared to measure for you, in front of a breathtaking view or in the heart of a Ghorfa. This place is your home! So do not hesitate to come and get away from it all in the heart of this Ksar and in the heart of Tunisia.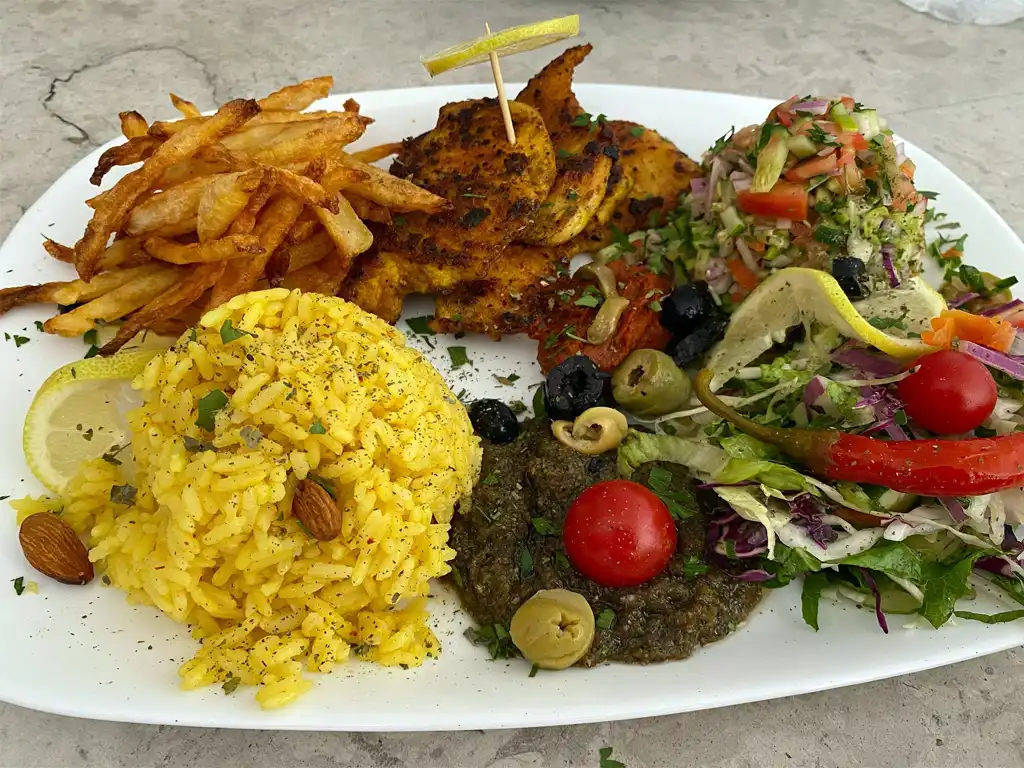 The light of your tastes
At Ksar Jouamaa, you will have an appetite for every detail that will be in front of you. You will be amazed as much by the landscape as by what will be placed delicately on your plate. The flavors will gracefully caress your nostrils and make you travel in a new culture, while staying in our magnificent fortress.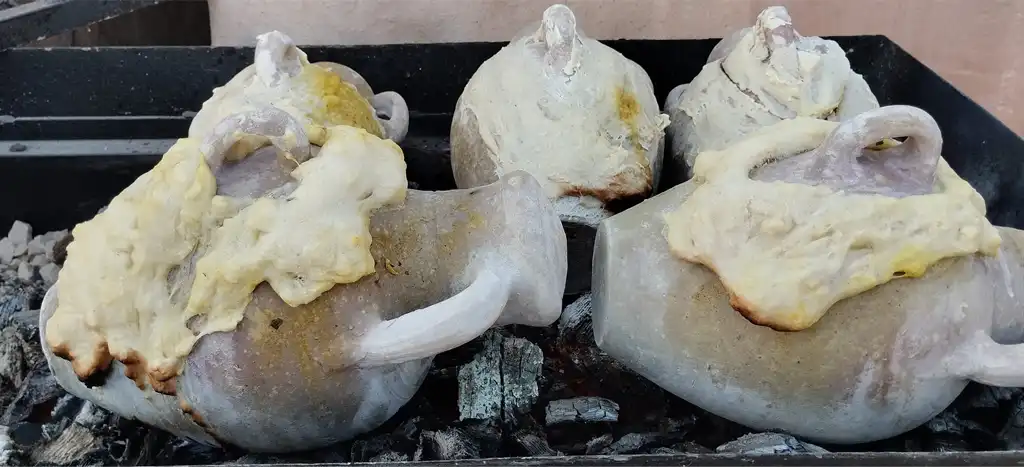 The jar of flavors
In an authentic pottery, in a magnificent jar, at Ksar Jouamaa, a typical Tunisian dish is being prepared: the famous gargoulette. Its flavors and colors will make your mouth water but above all the desire to taste it immediately... Nothing is more beautiful and better than tasting a typical dish in its country of origin, such as the beautiful discovery of a new culinary culture.
From water to land
At Ksar Jouamaa, the sea comes to you through these grilled fish that you can come and taste, perched at the top of the world, far from big storms, in a calm and majestic setting. From the flavor of the fish, delicately lemony, to the flavors of its accompaniments, through the little taste of freedom offered by this place, you can only have a good appetite!
On the spit
Let yourself be tempted by the smell of grilled meats to whet your appetite! This aroma of meats put down or turned on the spit, prepared in front of you and especially for you... Between skewers or méchoui, at Ksar Jouamaa you will have the choice of the king, all this to decorate and accompany with other flavors... All you have to do is let yourself be carried away by the little fumes.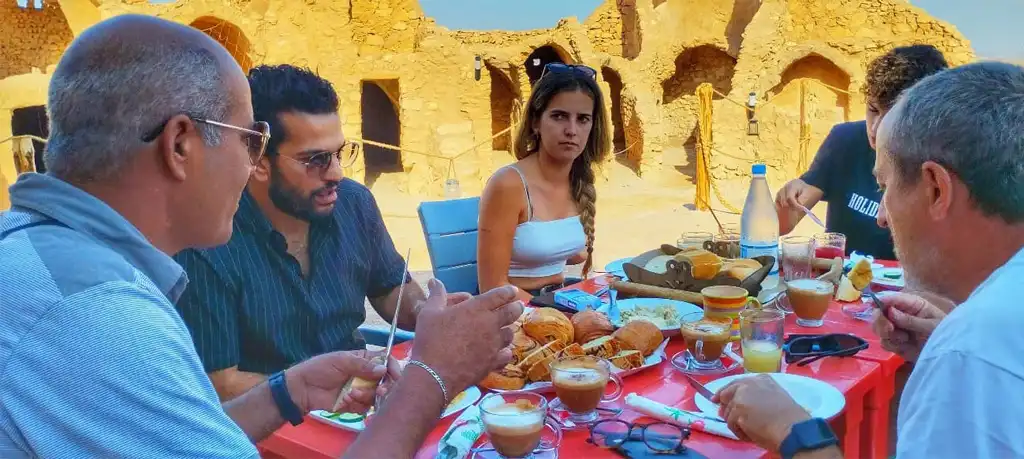 According to your desires
In the flavor of a jug or even a couscous, or by the freshness of a méchouia salad or a fruit bowl, at Ksar Jouamaa, you will soak up this soft table of colors which around you will make the timid time, the breathtaking beauty and will put peace on each of the borrowings deposited.